FOR INFORMATION ON THE MONTHLY MEMBERS DINNER
CONTACT EDWARD BEVILACQUA OR CALL 760-547-4547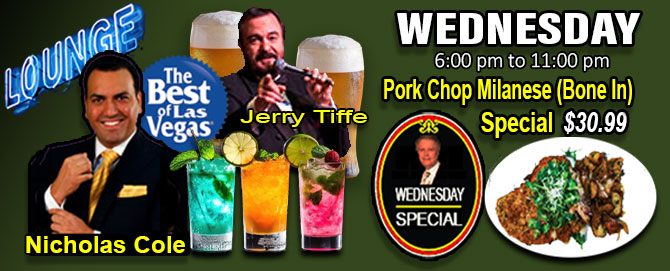 KEEP YOUR EVENING SAFE....

LET JOHNNY GET YOU THERE AND BACK SAFELY!!!!
Inquire about Italian American Club's luxury transportation (coach limo bus) service, offered for large groups, and assures safety and timely arrival for your guests. Reservations are strongly suggested by calling us at
702-457-3866.



For non-members there will be a surcharge of $1.00 per-tickets for
"One Day Social Membership".

THROWBACK 1st & 3rd THURSDAYS

THE SWANKY SUPPER CLUB SOIREE!

w/ Jeanne Brei $10.00
1st Thursday 6-9pm

3rd Thursday 6-9pm

Doors open at 5 pm for (optional) dinner - let Ben know you're here to see the Speakeasy Swingers (if it's not too busy, you might be able to dine in the ballroom for the full Swanky Supper Club Soiree experience!). Be sure and call for dinner reservations if you'd like to eat at (702) 457-3866. $10 cover includes three raffle tickets
(drawing at 9).



John Anthony as ROD STEWART

You Asked For It! Back By Popular Demand!

THE LOOK, THE VOICE AND THE MOVES

One of Legends in concert's Super Stars

Wednesday, September 28, 2016 at 8pm Tickets $25.00
For Tickets Call 702-457-3866 or Book Online
Pick Up Your Tickets At Italian American Club


For Dinner Reservations Call: 702-457-3866

Columbus Day Dinner/Dance Oct. 8, 2016

Antipasti | Carving Station | Buffet

Doors Open @ 6:30pm

Tickets $35.00

No Host Cocktails

Starring

Micheal T. Band

(Live Dance Band)
For Tickets Call 702-457-3866 or Book Online
Pick Up Your Tickets At Italian American Club


For Dinner Reservations Call: 702-457-3866

Frank LaSpina - "The Stage Biography of Connie Francis"

Starring Angie LaSpina

Sunday, October 16, 2016 at 4pm Tickets $20.00

Performance Benefiting Musical Arts Scholarship Program
For Tickets Call 702-457-3866 or Book Online
Pick Up Your Tickets At Italian American Club


For Dinner Reservations Call: 702-457-3866

CHADWICK JOHNSON

WE BELONG TO THE NIGHT

Celebrating Vegas Nightlife

From Grit to Glitz - Saloon Songs to Midnight Love Songs

Wednesday, October 19th, 2016 Show Time 8:00pm

Tickets Premium Seating $30.00 General Admission $20.00

Featuring Song Stylist Jonathan Karrant
For Tickets Call 702-457-3866 or Book Online
Pick Up Your Tickets At Italian American Club


For Dinner Reservations Call: 702-457-3866

GENE FERRARI IN CONCERT

A SALUTE TO THE BEST SINGERS OF OUR TIME

SONGS FROM FRANK SINATRA TO BON JOVI

featuring the Paul Badia Orchestra

Saturday, October 22nd, 2016 Show Time 8:00pm

Tickets General Admission $25.00
For Tickets Call 702-457-3866 or Book Online
Pick Up Your Tickets At Italian American Club


For Dinner Reservations Call: 702-457-3866
LIZ ALLEN HOPE

CHRISTMAS KIND OF LOVE!

Christmas Music Show

Santa Dancers

Debuting New Album

New CD Release Party

Friday, November 4, 2016 at 8pm Tickets $15.00
For Tickets Call 702-457-3866 or Book Online
Pick Up Your Tickets At Italian American Club


For Dinner Reservations Call: 702-457-3866

Michael Monge's

"Encore" Performance

Join us on a trip down Memory LN

With Michael's diverse song stylings you will enjoy an evening

Friday, Nov. 11, 2016 @ 8:00pm General admit $25 Vip $35
For Tickets Call 702-457-3866 or Book Online
Pick Up Your Tickets At Italian American Club


For Dinner Reservations Call: 702-457-3866
Back To The Top


Click On Dates For More Information
Lounge Show Times 7:00 to 11:00pm
(Unless Noted Below)
(We reserve the right to make changes in our performers)

CLICK FOR UPCOMING LOUNGE SHOWS

Frank DiSalvo

(6pm-10pm)

Carmine Mandia
& Friends

John Anthony as Rod Stewart

"The LOOK, The VOICE and The MOVES"

(8pm-12pm)

Janice Sands

(6pm-10pm)

Craig Canter


(7pm-11pm)

OCTOBER

1

(7pm-11pm)

2

3

4

5

6

7

8

(6pm-10pm)

Carmine Mandia
& Friends

(6pm-10pm)

Michael Delano

THROWBACK THURSDAYS
CALL
702-457-3866

(6pm-10pm)

Janice Sands

(7pm-11pm)

Columbus Day Dinner/Dance

Doors Open @ 6:30pm
Tickets $35.00

(7pm-11pm)

Jerry Tiffe

9

10

11

12

13

14

15

(6pm-10pm)

Russine Zellner

(6pm-10pm)

Craig Canter

w/Special guest
Joey Melotti&
Adam Shendal

(6pm-10pm)

RITA LIM

(7pm-11pm)

(7pm-11pm)

16

17

18

19

20

21

22

The Stage Biography of Connie Francis

Starring Angie LaSpina

Produced By: Frank LaSpina

(6pm-10pm)

Carmine Mandia
& Friends

CHADWICK JOHNSON WE BELONG TO THE NIGHT

Premium Seating $30.00 General Admission $20.00

(8pm-11pm)

Craig Canter
w/Special Guest
Joey Melotti
Adam Shenda

THROWBACK THURSDAYS
CALL
702-457-3866

(6pm-10pm)
Dennis Blair

(7pm-11pm)

Kent Foote & The Fabulous Vegas Good Fella's!

GENE FERRARI
IN CONCERT

(7pm-11pm)

Jerry Tiffe

23

24

25

26

27

28

29

(pm-10pm)

(6pm-10pm)

Craig Canter
w/Special Guest
Joey Melotti
Adam Shendal

(6pm-10pm)

RITA LIM

(7pm-11pm)

(7pm-11pm)

30

31

(6pm-10pm)

Carmine Mandia
& Friends

NOVEMBER

(6pm-10pm)

THROWBACK THURSDAYS
CALL
702-457-3866

(6pm-10pm)

LIZ ALLEN HOPE

CHRISTMAS KIND OF LOVE!

(8pm-12pm)

(7pm-11pm)

(6pm-10pm)

(6pm-10pm)

(6pm-10pm)

Michael Monge's

8:00pm
General admit $25 Vip $35

(7pm-11pm)

(7pm-11pm)

(6pm-10pm)

(6pm-10pm)

THROWBACK THURSDAYS
CALL
702-457-3866

(6pm-10pm)

(7pm-11pm)

(7pm-11pm)

(6pm-10pm)

(6pm-10pm)

(6pm-10pm)

(7pm-11pm)

(7pm-11pm)

(6pm-10pm)

(6pm-10pm)

DECEMBER