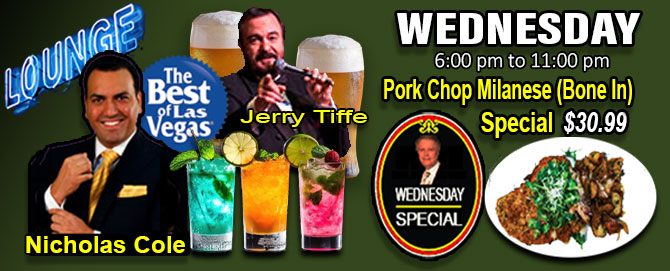 Please call for reservations: 702-457-3866


KEEP YOUR EVENING SAFE....

LET JOHNNY GET YOU THERE AND BACK SAFELY!!!!
Inquire about Italian American Club's luxury transportation (coach limo bus) service, offered for large groups, and assures safety and timely arrival for your guests. Reservations are strongly suggested by calling us at
702-457-3866.


For non-members there will be a surcharge of $1.00 per-tickets for
"One Day Social Membership".


THROWBACK 1st THURSDAYS

THE SWANKY SUPPER CLUB SOIREE!


w/ Jeanne Brei $10.00
Doors open at 5 pm for (optional) dinner - let Ben know you're here to see the Speakeasy Swingers (if it's not too busy, you might be able to dine in the ballroom for the full Swanky Supper Club Soiree experience!). Be sure and call for dinner reservations if you'd like to eat at (702) 457-3866.
$10 cover includes three raffle tickets
(drawing at 9)
.



"INTERNET TV-RADIO


PERSONALITY NETWORK 2016-2017


ANNUAL AWARD"

Come enjoy some of Las Vegas leading personalities for the special
awards night honoring those who entertain us.
APPEARENCES BY HONOREE'S & PERFORMERS ** Click Here
Sunday, March 26, 2017 @ 7:00 to 9:00pm Tickets $25.00



"Rebuilding Our Heritage"


100% of the registration fee will go to the areas affected by the recent earthquake

Monday, March 27, 2017 at 6 pm
Enroll online at:
italiano.vegas
Info: Marta Soligo
events@italiano.vegas
or Phone +1 725-999-2458
Tickets Individual $50.00 UNLV & CSN STUDENTS $25.oo



Jimmy Hopper"


YOU WRITE THE SHOW


A totally customized and one-of-a-kind show the YOU the audience help create!

You select the songs and artist you want to hear... Jimmy will tally up the winners and perform the most selected songs from your Artist that you all have selected.



Frank LaSpina - "the stage biography... MEL TORME"


Special guest star... Vince Mastro

Sunday, April 9, 2017 at 4pm Donations $20.00
Performance Benefiting Musical Arts Scholarship Program
For Tickets Call 702-457-3866 or Book Online
Pick Up Your Tickets At Italian American Club


For Dinner Reservations Call: 702-457-3866



TOGETHER FOR THE FIRST TIME


Michael Monge & Sonny Charles"


RHYTHM CHANGES

Wednesday April 12 @ 8:00pm Tichets: GA $25.00 VIP $35.00
For Tickets Call 702-457-3866 or Book Online
Pick Up Your Tickets At Italian American Club


For Dinner Reservations Call: 702-457-3866



"Tribute to: ROD STEWART"


Starring: John Anthony

John is one truly authentic Rod Stewart tribute artist. With an all action, non stop show, John Anthony performs all of the favorites from Rod Stewart's collection of hits.
Friday, April 28, 2017

Show Time: 7:30pm Door Open 6:30pm

Tickets $25.00


"Years of Memories"
Starring: Larry Liso & Nieve Maldra
Things End, But Songs Last Forever
STANDARDS, SWING, LATIN AND BALLADS
Wednesday May 17, 2017

Show Time: 7:30pm

Tickets $20.00



Frank LaSpina - "WONDER-FUL a celebration of Stevie Wonder's Music"


Special guest star... Angelo Molineri

Sunday, May 21, 2017 at 4pm Donations $20.00
Performance Benefiting Musical Arts Scholarship Program

For Tickets Call 702-457-3866 or Book Online
Pick Up Your Tickets At Italian American Club
For Dinner Reservations Call: 702-457-3866


Back To The Top


Click On Dates For More Information
Lounge Show Times 6:00 pm to 11:00 pm
(Unless Noted Below)
(We reserve the right to make changes in our performers)

CLICK FOR UPCOMING LOUNGE & SHOWROOM

Back To The Top

INTERNET
TV-RADIO
PERSONALITY NETWORK
2016-2017

ANNUAL AWARD

Come enjoy some of Las Vegas leading personalitties for the special
awards night honoring those who entertain us.

7:00 to 9:00pm Tickets $25.00

(6pm-9pm)

Paul Stevenson
Trio

(9pm-10pm)

The Vegas Good Fellas

The Dance Floor is OPEN

(6pm-10pm)

Janice Sands

(6pm-10pm)

Jonathan Karrant

(7pm-11pm)

Genevieve

APRIL

(7pm-11pm)

Jimmy Hopper

YOU WRITE THE SHOW

@ 7:30 pm

Tickets
GA $25.00
VIP $35.00

(7:30pm-11:30pm)

Renee Hale

PALM SUNDAY

MEL TORME

the stage biography

Produced By:

Frank LaSpina

Special guest star...
Vince Mastro

(6pm-10pm)

Carmine Mandia
& Friends

Michael Monge & Sonny Charles

RHYTHM CHANGES

8pm Tickets GA $25.00 VIP $35.00

(8pm-12pm)

Janice Sands

EASTER SUNDAY

Dinner
3-pm to
9-pm

(6pm-10pm)

Kent Foote

The Vegas Good Fellas

Tribute to: ROD STEWART

Starring: John Anthony

Show Time: 7:30pm Door Open 6:30pm Tickets $25.00

(7pm-11pm)

Mark Giovi

MAY

(6pm-10pm)

Years of Memories

Things End, But Songs Last Forever

Starring: Larry Liso & Nieve Maldra

(6pm-10pm)

WONDER-FUL

celebration of Stevie Wonder's Music

Special guest star Angelo Molineri

(6pm-10pm)

JUNE

THROWBACK THURSDAYS
CALL
702-457-3866

(6pm-10pm)

(7pm-11pm)

(7pm-11pm)

(6pm-10pm)

(6pm-10pm)

(6pm-10pm)

(7pm-11pm)

(7pm-11pm)

(6pm-10pm)

(6pm-10pm)

(6pm-10pm)

(7pm-11pm)

(7pm-11pm)

(6pm-10pm)

(6pm-10pm)

(6pm-10pm)

(7pm-11pm)

(7pm-11pm)

(6pm-10pm)

(6pm-10pm)

(6pm-10pm)

(7pm-11pm)

JULY