FOR INFORMATION ON THE MONTHLY MEMBERS DINNER
CONTACT EDWARD BEVILACQUA OR CALL 760-547-4547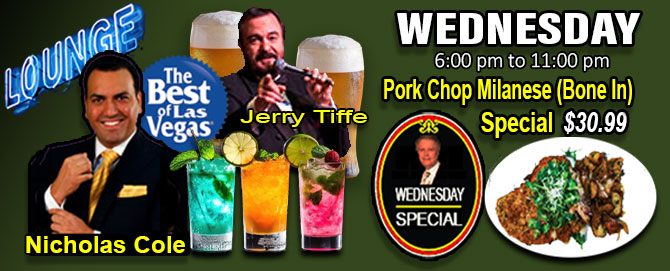 KEEP YOUR EVENING SAFE....

LET JOHNNY GET YOU THERE AND BACK SAFELY!!!!
Inquire about Italian American Club's luxury transportation (coach limo bus) service, offered for large groups, and assures safety and timely arrival for your guests. Reservations are strongly suggested by calling us at
702-457-3866.



For non-members there will be a surcharge of $1.00 per-tickets for
"One Day Social Membership".

THROWBACK 1st & 3rd THURSDAYS

THE SWANKY SUPPER CLUB SOIREE!

w/ Jeanne Brei $10.00
1st Thursday 6-9pm

3rd Thursday 6-9pm

Doors open at 5 pm for (optional) dinner - let Ben know you're here to see the Speakeasy Swingers (if it's not too busy, you might be able to dine in the ballroom for the full Swanky Supper Club Soiree experience!). Be sure and call for dinner reservations if you'd like to eat at (702) 457-3866. $10 cover includes three raffle tickets
(drawing at 9).



'Frankie's Falsetto & Friends'!
Friday, July 1, 2016. Time: 8:00 pm. Till 9:30 pm. Tickets: $20.00
Tributes to... Frankie Valli Sir Elton John Bill Medley
Starring : Mark Maynard Gene Sironen
guest star Kelly Vohn
The show is with a live band. Explosive Kick-Off for the 4th. of July weekend!!
A Patriotic Celebration of the 'Good Times Rock 'n' Roll we love to Dance and Party to!!

For Tickets Call 702-457-3866 or Book Online
Pick Up Your Tickets At Italian American Club


For Dinner Reservations Call: 702-457-3866


Barry Manilow The Stage Biography

featuring Angie LaSpina

As narrated & performed by: Frank LaSpina

Performance Benefiting Musical Arts Scholarship Program

Sunday, July 10, 2016 at 4pm Tickets $20.00
For Tickets Call 702-457-3866 or Book Online
Pick Up Your Tickets At Italian American Club


For Dinner Reservations Call: 702-457-3866


Jimmy Hopper

The Voice Is Back!!

As narrated by: Frank LaSpina

As Ron Taft of Ron Taft productions/Los Angeles summed it up,

"Jimmy Hopper…The most amazing voice you'll ever love!"

Friday, July 22, 2016 at 4pm Tickets $27.00
For Tickets Call 702-457-3866 or Book Online
Pick Up Your Tickets At Italian American Club


For Dinner Reservations Call: 702-457-3866


Kenny Rogers The Stage Biography

Starring Glen Williams

As narrated by: Frank LaSpina

Performance Benefiting Musical Arts Scholarship Program

Sunday, August 14, 2016 at 4pm Tickets $20.00
For Tickets Call 702-457-3866 or Book Online
Pick Up Your Tickets At Italian American Club


For Dinner Reservations Call: 702-457-3866


John Anthony as ROD STEWART

You Asked For It! Back By Popular Demand!

THE LOOK, THE VOICE AND THE MOVES

One of Legends in concert's Super Stars

Wednesday, September 28, 2016 at 4pm Tickets $25.00
For Tickets Call 702-457-3866 or Book Online
Pick Up Your Tickets At Italian American Club


For Dinner Reservations Call: 702-457-3866
Back To The Top


Click On Dates For More Information
Lounge Show Times 7:00 to 11:00pm
(Unless Noted Below)
(We reserve the right to make changes in our performers)

CLICK FOR UPCOMING LOUNGE SHOWS

(7pm-10pm)

Kent Foote & The Fabulous Vegas Good Fella's!

(6pm-10pm)

Mark Giovi

(6pm-10pm)

Genevieve

JULY

Frankie's Falsetto & Friends!

Tributes to Frankie Valli
Sir Elton John
Bill Medley Starring : Mark Maynard &
Gene Sironen guest star Kelly Vohn

(7pm-10pm)

(7pm-11pm)

(6pm-10pm)

RITA LIM

Ned Mills on Keys

Danny Denorales on Bass

John Plows on Drums

(6pm-10pm)

Mark Giovi

THROWBACK THURSDAYS
CALL
702-457-3866

(6pm-10pm)

Genevieve

(7pm-11pm)

Carmine Mandia
& Friends

(7pm-11pm)

Barry Manilow

Produced By: Frank LaSpina

(6pm-10pm)

(6pm-10pm)

Mark Giovi

(6pm-10pm)

Jonathan Karrant

(7pm-11pm)

Carmine Mandia
& Friends

(7pm-11pm)

(6pm-10pm)

(6pm-10pm)

Mark Giovi

THROWBACK THURSDAYS
CALL
702-457-3866

(6:00pm-10:00pm)

Janice Sands

Mike Shane on keyboards, Michael Tramontana on drums.

Jimmy Hopper

(7pm-11pm)

Carmine Mandia
& Friends

(7pm-11pm)

(6pm-10pm)

(6pm-10pm)

Mark Giovi

(6pm-10pm)

Genevieve

Russine Zellner

(7pm-11pm)

(6pm-10pm)

Kenny Rogers

Produced By: Frank LaSpina

(6pm-10pm)

SEPTEMBER

THROWBACK THURSDAYS
CALL
702-457-3866

THROWBACK THURSDAYS
CALL
702-457-3866

John Anthony as Rod Stewart

"The LOOK, The VOICE and The MOVES"

(6pm-10pm)

OCTOBER