Traditional Turkey Dinner
With All The Trimmings
November 24, 2016
2:00pm to 9:00pm
Reservations (702) 457-3866



FOR INFORMATION ON THE MONTHLY MEMBERS DINNER
CONTACT EDWARD BEVILACQUA OR CALL 760-547-4547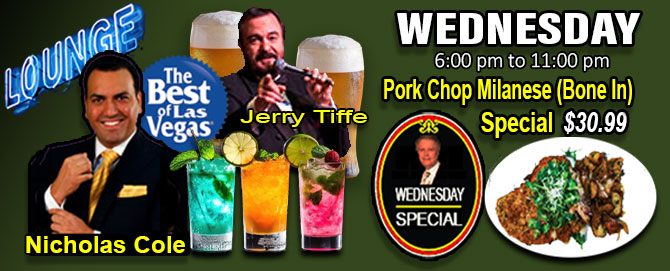 KEEP YOUR EVENING SAFE....

LET JOHNNY GET YOU THERE AND BACK SAFELY!!!!
Inquire about Italian American Club's luxury transportation (coach limo bus) service, offered for large groups, and assures safety and timely arrival for your guests. Reservations are strongly suggested by calling us at
702-457-3866.



For non-members there will be a surcharge of $1.00 per-tickets for
"One Day Social Membership".



BRING IN THE NEW YEAR

DINNER BUFFET & DANCING & LIVE MUSIC
On Saturday, December 31, 2016

No Host Cocktails 7:00pm

Antipasti Served 7:00 to 8:00pm

Dinner Buffet Served 8:00pm


Live Music & Dancing 8:30pm

Champagne Toast & Noisemakers @ 12:00am

For Reservations & Tickets Call 702-457-3866






PRE HALLOWEEN VINTAGE PARTY




Louis and Phyllis Ball of Macro LB Music presents a Pre-Halloween Vintage Party featuring LB Unlimited with special guest artists also plenty of dancing and fun with live DJ and door prizes.
Tickets include dinner and a live show come dress in costume of the 1920's or come as you are in dressup attire, dressed in vintage attire of the 1920's which is optional.
Music from the 20's, 70's to present.
Doors open at 7:pm, show time 8:pm, and DJ 9:pm to 11:pm
Saturday, October 29, 2016 Tickets $30.00 @ Door $35.00
For Tickets Call 702-457-3866 or Book Online
Pick Up Your Tickets At Italian American Club


For Dinner Reservations Call: 702-457-3866

LIZ ALLEN HOPE

CHRISTMAS KIND OF LOVE!

Christmas Music Show

Santa Dancers

Debuting New Album

New CD Release Party

Friday, November 4, 2016 at 8pm Tickets $15.00
For Tickets Call 702-457-3866 or Book Online
Pick Up Your Tickets At Italian American Club


For Dinner Reservations Call: 702-457-3866

PATTY ASCHER

FROM BRAZIL WITH LOVE

The Brazilian Jazz Newest Sensation

What happens when Samba meets Jazz?

Sunday, November 6, 2016 at 5pm Tickets $20.00
For Tickets Call 702-457-3866 or Book Online
Pick Up Your Tickets At Italian American Club


For Dinner Reservations Call: 702-457-3866

JONATHAN KARRANT

AUTUMN IN NEW YORK

From Las Vegas to New York, song stylist

Special Guest: Chadwick Johnson

Thursday, November 10, 2016 at 8pm Tickets $20.00
For Tickets Call 702-457-3866 or Book Online
Pick Up Your Tickets At Italian American Club


For Dinner Reservations Call: 702-457-3866

Michael Monge's

"Encore" Performance

Join us on a trip down Memory LN

With Michael's diverse song stylings you will enjoy an evening

Friday, Nov. 11, 2016 @ 8:00pm General admit $25
For Tickets Call 702-457-3866 or Book Online
Pick Up Your Tickets At Italian American Club


For Dinner Reservations Call: 702-457-3866


Amatrice, Italy Earthquake

Benefit Dinner and Concert

Assist Victims of the Amatrice, Italy Earthquake

Sunday, Nov. 13, 2016 @ 4:00pm General admit $50.00
For Tickets Call 702-457-3866 or Book Online
Pick Up Your Tickets At Italian American Club


For Dinner Reservations Call: 702-457-3866


Jimmy Hopper Presents: A TRIBUTE TO THREE DOG NIGHT
Celebrate 20 Gold Hits from the hottest vocal band in the 70's
Wednesday, November 16, 2016 at 8 pm Tickets General Admission $30.00 VIP $35.00

For Tickets Call 702-457-3866 or Book Online
Pick Up Your Tickets At Italian American Club


For Dinner Reservations Call: 702-457-3866

Frank LaSpina - "The Sunny Side of Life"

Starring Tommy Ward

Sunday, November 20, 2016 at 4pm Tickets $20.00

Performance Benefiting Musical Arts Scholarship Program
For Tickets Call 702-457-3866 or Book Online
Pick Up Your Tickets At Italian American Club


For Dinner Reservations Call: 702-457-3866
Back To The Top


Click On Dates For More Information
Lounge Show Times 7:00 to 11:00pm
(Unless Noted Below)
(We reserve the right to make changes in our performers)

CLICK FOR UPCOMING LOUNGE SHOWS

(pm-10pm)

(6pm-10pm)

Craig Canter
w/Special Guest
Joey Melotti


(6pm-10pm)

RITA LIM

(7:30 pm-11pm)

Pre Halloween Vintage Party

Louis and Phyllis Ball of Macro LB Music

Admission $30.00
@ the door
$35.00

(7pm-11pm)

Jerry Tiffe

30

31

(6pm-10pm)

Craig Canter
w/Special Guest
Joey Melotti


NOVEMBER

(6pm-10pm)

THROWBACK THURSDAYS
CALL
702-457-3866

(6pm-10pm)

RITA LIM

LIZ ALLEN HOPE

CHRISTMAS KIND OF LOVE!

(7:30 pm-11pm)

Mark Giovi

(7pm-11pm)

PATTY ASCHER

FROM BRAZIL WITH LOVE

(7pm-11pm)

Kent Foote & The Fabulous Vegas Good Fella's!

(6pm-10pm)

Dennis Blair

(8pm-12am)

Michael Monge's

(8 pm-11pm)

Mark Giovi

(7pm-11pm)

Amatrice, Italy Earthquake
Benefit Dinner& Concert
Assist Victims of the Amatrice, Italy Earthquake

(7pm-11pm)

Carmine Mandia
& Friends

Jimmy Hopper Presents:

A TRIBUTE TO THREE DOG NIGHT

8 pm
Tickets GA $30.00 VIP $35.00

(8pm-12pm)

(6pm-10pm)

Renee Hale

(8 pm-12pm)

Genevieve

(7pm-11pm)

Frank LaSpina - "The Sunny Side of Life"

Produced By: Frank LaSpina

(6pm-10pm)

Russine Zellner

(6pm-10pm)

Russine Zellner

(6pm-10pm)

Jonathan Karrant

(7:30 pm-11pm)

Mark Giovi

(7pm-11pm)

(6pm-10pm)

Carmine Mandia
& Friends

(6pm-10pm)

Jonathan Karrant

DECEMBER

JANUARY