FOR INFORMATION ON THE MONTHLY MEMBERS DINNER
CONTACT EDWARD BEVILACQUA OR CALL 760-547-4547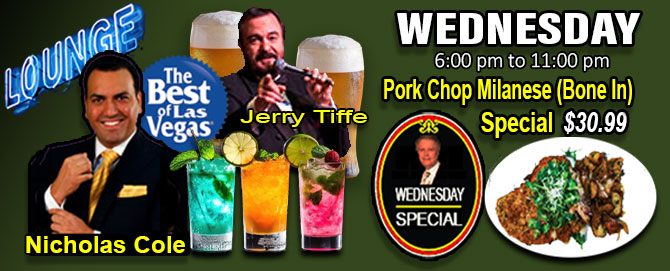 KEEP YOUR EVENING SAFE....

LET JOHNNY GET YOU THERE AND BACK SAFELY!!!!
Inquire about Italian American Club's luxury transportation (coach limo bus) service, offered for large groups, and assures safety and timely arrival for your guests. Reservations are strongly suggested by calling us at
702-457-3866.


Yes! We are open with a special Valentine's Day Dinner Menu. Live entertainment by Janice Sands singing her unique and romantic style of love songs.
Please call for reservations: 702-457-3866.

Birthday Party For Sam Wagmeister
Come and have a piece of cake with us!
Friday Dec. 30 @ 9:00pm until ???
Mark Giovi will be in our lounge.


Jonathan Karrant
Nominated for "Best Jazz Vocalist"
Share and Help Jonathan to win
Click Here to VOTE
.



For non-members there will be a surcharge of $1.00 per-tickets for
"One Day Social Membership".


THROWBACK 1st THURSDAYS

THE SWANKY SUPPER CLUB SOIREE!


w/ Jeanne Brei $10.00
Doors open at 5 pm for (optional) dinner - let Ben know you're here to see the Speakeasy Swingers (if it's not too busy, you might be able to dine in the ballroom for the full Swanky Supper Club Soiree experience!). Be sure and call for dinner reservations if you'd like to eat at (702) 457-3866.
$10 cover includes three raffle tickets
(drawing at 9).




BRING IN THE NEW YEAR

DINNER BUFFET & DANCING & LIVE MUSIC
Mark Giovi

Elisa Fiorillo

Jonathan Karrant

On Saturday, December 31, 2016

No Host Cocktails 7:00pm

Antipasti Served 7:00 to 8:00pm

Dinner Buffet Served 8:00pm


Live Music & Dancing 8:30pm

Champagne Toast & Noisemakers @ 12:00am

For Reservations & Tickets Call 702-457-3866


Frank LaSpina - "8th Annual Frank & Friends Christmas Concert"

Sunday, December 4, 2016 at 4pm Tickets $20.00

Performance Benefiting Musical Arts Scholarship Program
For Tickets Call 702-457-3866 or Book Online
Pick Up Your Tickets At Italian American Club


For Dinner Reservations Call: 702-457-3866

Madame Coquette's Rock-O-Rific Cabaret

Featuring the incomparable band STOKED, backing our fabulous performers!

Cabaret performances of rock classics new & old performed my

Las Vegas' most illustrious dancers & singers.

Thursday December 8, 2016 at 8pm Tickets $15.00
For Tickets Call 702-457-3866 or Book Online
Pick Up Your Tickets At Italian American Club


For Dinner Reservations Call: 702-457-3866

IAC CLUB MEMBERS

Their children & Grandchildren

To

Christmas with Santa Holiday Party

Complimentary Buffet Lunch Served

RSVP Andrea Collura 702-361-6206

Email RSVP - Andrea Collura

On Sunday, December 11

12:00 pmTo 3:00 pm
For Tickets Call 702-457-3866 or Book Online
Pick Up Your Tickets At Italian American Club


For Dinner Reservations Call: 702-457-3866

Michael Monge

Some Enchanted Evening

Singing Your Favorite Songs

Wednesday, January 18, 2017

8:00 pm - VIP $35.00 or General Admission $25.00
For Tickets Call 702-457-3866 or Book Online
Pick Up Your Tickets At Italian American Club


For Dinner Reservations Call: 702-457-3866

Frank LaSpina - "the stage biography of: TOM JONES"

Starring: Glenn Wiliams

Sunday, January 22, 2017 at 4pm Tickets $20.00

Performance Benefiting Musical Arts Scholarship Program
For Tickets Call 702-457-3866 or Book Online
Pick Up Your Tickets At Italian American Club


For Dinner Reservations Call: 702-457-3866

Vargas - "Vintage Vegas"
Starring Art Vargas
Guest Star Laura Shaffer
Live Swingin' Band! Style, Showmanship & Glamour of
The Legendary Entertainers of Vintage Vegas!
Friday, February 10, 2017 at 8pm Tickets $25.00
For Tickets Call 702-457-3866 or Book Online
Pick Up Your Tickets At Italian American Club


For Dinner Reservations Call: 702-457-3866


Frank LaSpina - "COUNTRY CLASSICS"

Starring: Diana Horn

Sunday, February 19, 2017 at 4pm Tickets $20.00

Performance Benefiting Musical Arts Scholarship Program
For Tickets Call 702-457-3866 or Book Online
Pick Up Your Tickets At Italian American Club
For Dinner Reservations Call: 702-457-3866


Back To The Top


Click On Dates For More Information
Lounge Show Times 7:00 to 11:00pm
(Unless Noted Below)
(We reserve the right to make changes in our performers)

CLICK FOR UPCOMING LOUNGE SHOWS

8th Annual Frank & Friends Christmas Concert

Performance Benefiting Musical Arts Scholarship Program

(6pm-10pm)

Craig
Canter

Songs of Christmas




Pearl Harbor

(6pm-10pm)

Madame Coquette's Rock-O-Rific Cabaret

(8pm-12pm)

Jonathan Karrant

(7:30 pm-11:30pm)

Janice Sands

(7pm-11pm)

IAC CLUB MEMBERS

Holiday Party

Their children & Grandchildren
To
Christmas with Santa

Complimentary Buffet Lunch Served

12:00 pm
To 3:00 pm

(6pm-10pm)

Russine Zellner

(6pm-10pm)

Janice Sands

(6pm-10pm)

Jonathan Karrant

(7:30 pm-11pm)

Genevieve

Mark Giovi

(7pm-11pm)

6pm to 10pm

Craig
Canter

Songs of Christmas

(6pm-10pm)

Janice Sands

(6pm-10pm)

Birthday Party
Sam Wagmeister

(7:30 pm-11pm)

Genevieve

Mark Giovi

(7pm-11pm)



CHRISTMAS DAY

(6pm-10pm)

Janice Sands

(6pm-10pm)

Jonathan Karrant

(7:30 pm-11pm)

Genevieve

Mark Giovi

BRING IN THE NEW YEAR
2017

Mark Giovi Elisa Fiorillo Jonathan Karrant

JANUARY

(6pm-10pm)

THROWBACK THURSDAYS
CALL
702-457-3866

(6pm-10pm)

(7:30 pm-11pm)

Genevieve

Mark Giovi

(7pm-11pm)

(6pm-10pm)

(6pm-10pm)

(6pm-10pm)

(7:30 pm-11pm)

Genevieve

Mark Giovi

(7pm-11pm)

(6pm-10pm)




(6pm-10pm)

Show Time
8pm
VIP $35.00
or GA $25.00

(6pm-10pm)

(7:30 pm-11pm)

Genevieve

Mark Giovi

(7pm-11pm)

the stage biography of: TOM JONES

(6pm-10pm)

(6pm-10pm)

(6pm-10pm)

(7:30 pm-11pm)

Genevieve

Mark Giovi

(7pm-11pm)

(6pm-10pm)

FEBRUARY

(6pm-10pm)

THROWBACK THURSDAYS
CALL
702-457-3866

(6pm-10pm)

(7:30 pm-11pm)

Genevieve

Mark Giovi

(7pm-11pm)

(6pm-10pm)

(6pm-10pm)

(6pm-10pm)

Art Vargas

(8 pm-11pm)

Mark Giovi

(7pm-11pm)

(6pm-10pm)

Valentine's
Day


(6:00 pm-10:00pm)

Janice Sands

(6pm-10pm)

(6pm-10pm)

(7:30 pm-11pm)

Genevieve

Mark Giovi

(7pm-11pm)

(6pm-10pm)


Presidents'
Day


(6pm-10pm)

(6pm-10pm)

(7:30 pm-11pm)

Genevieve

Mark Giovi

(7pm-11pm)

(6pm-10pm)

MARCH

(6pm-10pm)

THROWBACK THURSDAYS
CALL
702-457-3866

(6pm-10pm)

(7:30 pm-11pm)

Genevieve

Mark Giovi

(7pm-11pm)

(6pm-10pm)

(6pm-10pm)

(6pm-10pm)

(7:30 pm-11pm)

Genevieve

Mark Giovi

(7pm-11pm)

(6pm-10pm)

(6pm-10pm)

(6pm-10pm)

Saint Patrick's Day

(7:30 pm-11pm)

Mark Giovi

(7pm-11pm)

(6pm-10pm)

(6pm-10pm)

(6pm-10pm)

(7:30 pm-11pm)

Genevieve

Mark Giovi

(7pm-11pm)

(6pm-10pm)

(6pm-10pm)

(6pm-10pm)

(7:30 pm-11pm)

Genevieve

Mark Giovi